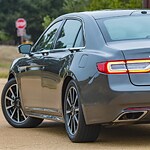 When you want a car to perform well for you each and every time, you will want to consider the Lincoln Continental. This is a popular luxury car that seems to have just about everything you could want. The interior is sleek and stylish, while the engine packs the right amount of power that you need.
With the adaptive cruise control, you will be amazed at how easy driving down the highway becomes. You will no longer have to be so concerned with the traffic patterns. The car will read that for you automatically and speed up and slow down to keep you at just the right speed.
With Dynamic Torque Vectoring, you will be able to take curves like the professionals. This is a feature that kicks in when needed. You will feel the power being delivered to the proper tire at just the right time. Stop by Ken Pollock Lincoln when you have a chance and take the Continental on a test drive.